Profession
The negative business impact of CEO isolation
[ad_1]

As CEOs climb the corporate ladder, many find themselves grappling with a paradoxical challenge: isolation. Despite being surrounded by teams and board members, a CEO can often feel remarkably alone in their decision-making process. This loneliness, while not always apparent on the surface, carries significant risks that extend beyond the individual and to the entire organization.
---
In this article, Vistage's Work It Daily experts take a look at the risks and negative business impact of CEO isolation. Read on to find out how CEOs can avoid isolation and implement practical strategies to foster greater engagement, better communication, and greater inclusion within their organization.
Mike Thorne
"Mike, the team just doesn't get it. They cannot see the big picture. I just need them to be responsible.
How often do you hear or say this if you are a CEO? It's worth asking, "What role am I playing in this story?" You may not like the answer, but I'm confident it will unlock you and your organization, and ultimately your happiness at home, at work, and in your community.
Very often, business owners and CEOs isolate themselves without even realizing it. Their heavy workload and ultimate belief that they are fully responsible for everything is too much of a burden for one person. There is no doubt that they feel that without them the overall stability and sustainability of the business will not work.
This leads to two main outcomes: (1) lack of time to truly reflect, invest time in connecting with peers, and socializing, and (2) fear of delegation. The common problem as a CEO/business owner (fear of delegation) becomes overwhelming the longer they don't ask for help. Employees end up complying but do not commit because they wait for the "boss" to decide. It's a vicious circle.
Some quick ideas to help you:
1. Set boundaries at work. Schedule time for relaxation, exercise or a hobby. Try an hour a week and grow from there. CEOs need to BE CAREFUL of where their time is spent.
2. Outsource non-core functions. Start seeing your leadership team as competent and as only you can do. Find a few things you'd like to get off your plate and test a key leader in their work. You will build trust and it will increase your capacity AND that of the organization when you do.
3. Join peer groups. It is crucial to have people who are not directly involved in the business. They may give you perspective that you don't have, but they also "get" what you're up against.
We often think we need to revolutionize the way we operate when a few quick wins will give us the courage and confidence to act.
Remember that reality always, always wins.
Mike Thorne is a former CEO and current President of Vistage. He leads and facilitates a group of Trusted Advisor Entrepreneurs and a CEO Peer Group in New Hampshire and Maine.
Kirsten Yurich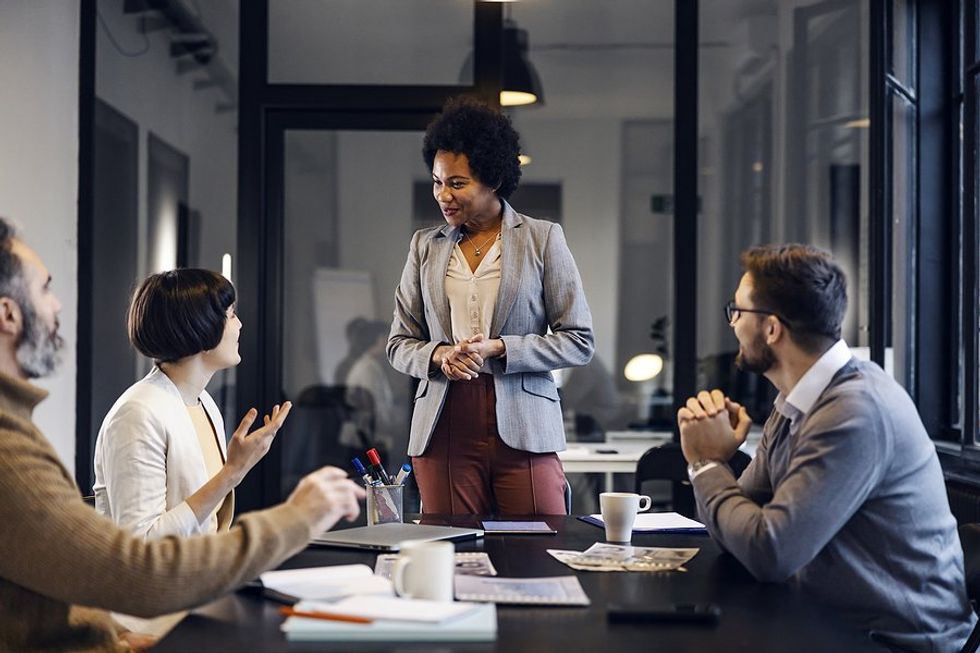 Image from Bigstock
To be a leader is to be isolated.
Leaders are surrounded by people all the time, but don't really belong anywhere.
However, an isolated leader is a dangerous leader.
Leaders can be isolated in different ways. Each path has unique and negative consequences for both the leader and the company and its employees.
For example, a leader might be isolated from his employees. In this case, they ignore the real problems and experiences that are taking place within their company. These leaders find the corporate culture great and find it hard to understand why they have such a big turnover problem! Or maybe they are so out of touch with employee needs and preferences that they make decisions that hurt productivity and morale.
A leader could be isolated from reality. They might spend so much time IN the business (working on details or micromanaging their team) that they don't search every corner of the business or pay attention to market changes and trends. The business becomes stale and irrelevant.
A leader could be isolated socially. They are alone. Leaders have no real group to belong to in office. Relationships are always clouded by the imbalance of authority. You may need to refer a "friend". This will always put a damper on a relationship. This can create moderate or even extreme depression.
A leader could be isolated intellectually. The pressure to perform and to be "always on" often leads leaders to put their own professional development needs last. This can prevent them from developing in areas both within their industries as well as among professionals and leaders in general. Leaders with limited learning slow down their effectiveness. They MUST find peers outside their company to learn from. Peer advisory groups are a place where they can validate their thinking, question their decisions and actions in a safe way (without risking their job, reputation, etc.) and gain the perspective and collective wisdom of other managers outside their sector.
Will it always be like this?
How can leaders overcome the inevitability of isolation? It's possible. But it starts in your head.
Clarifying the vision or version of the leader YOU want to be is the starting point. What specifically do you value? List it! Your state of mind and your convictions about what a leader IS (what he creates) will always determine your behaviors and your choices.
If you think a leader never shows weakness or vulnerability, then my suggestion of a strategy to create psychological safety through shared vulnerability with your team will fail because deep down you don't believe that is how leaders should behave. You won't be able to. So don't even try.
The strategies you select should align with the leadership values ​​you stand for (or aspire to hold).
Be present with your employees in an organic and authentic way. Show up to events, meetings and celebrations just to see and be seen.
Spend time doing the work that only YOU can do. Evaluate your current contributions to the business and realign them if necessary. Delegate those that can be done by others. For senior leaders, spend 50% of your time outside of the company building relationships.
Build a solid social network with people outside the company. Have a hobby, creative if possible.
To be active. Exercise and sleep for executives are extremely important. The more cognitively demanding the job, the more important these disciplines are to your performance.
Engage in peer-to-peer experiences regularly where you can challenge your thinking and solve important problems with other leaders. Exposure to other ways of thinking improves your analytical and problem-solving skills.
Isolation is inevitable when it comes to leadership. But its negative effects can be mitigated and managed through a proactive approach in the various areas listed above.
Kirsten Yurich is a former CEO and current President of Vistage. As a clinician, teacher, author, and executive, she harnesses this unique blend and creates learning environments that empower executives to become better leaders, spouses, and parents.
Marc Fackler
Image from Bigstock
For me, the problem of isolation started instantly.
One day I was an employee, the next I was a lone CEO. I quit my job to voluntarily walk a path on my own and wasn't sure what was in store for me. My personality, like that of most founders, is marked by curiosity and risk-taking. There was probably some courage there, but naivety can lessen the need for courage. What's the worst that can happen, I lose my house? Who cares.
But as you walk down that founder's path, isolation builds. Along with growing isolation are growing problems. What's funny, or not so funny, about problems is that they multiply and grow accordingly. The always impending failure has an ever-increasing impact not only on your life, but also on that of your employees, customers and suppliers. What comes from "What's the worst that can happen: I lose my house?" becomes the same problem for those who rely on you. Isolation reinforces and hinders CEO productivity.
Solving the problem of isolation for those of us willing to admit that isolation is real was actually quite simple for me. I joined a Vistage CEO peer group. After attending a few monthly meetings, I learned to be open, honest and vulnerable. I don't mean to trivialize becoming open, honest and vulnerable, but when I did, the relief from isolation came little by little. Yes, it's just a little relief, but doing it month after month, for me for 12 years, has provided me with enough cumulative relief to ride that scary wave, that scary, isolating wave, that felt like she was going to swoop down on me at any moment. moment.
With this sense of relief and thanks to the peer group, I learned what was needed to grow the business and take care of everyone who relied on me.
Marc Fackler is a retired CEO and currently leads the Vistage CEO Group of which he was a member from 1991-2002. He is passionate about creating excellent ROI for his member CEOs.
What is your experience of CEO isolation and its negative impact on the business? Join the conversation inside Work It Daily Executive Program.
From articles on your site
Related articles on the web
[ad_2]

Source link