Education
L&D engagement begins before learning begins
[ad_1]

Create connection to drive L&D engagement
Very often, when L&D teams think about learner engagement, they focus on what's happening in the learning environment itself. Whether it's a course, class, video, etc., every effort is made to make these experiences as engaging as possible. Designers make sure the visuals are strong and there is enough interactivity to hold people's attention. Careful efforts are made to select the right fonts, colors and branding. These are all essentials, that's for sure. But if your learners don't already have a connection to learning before the experience even begins, this effort may be wasted.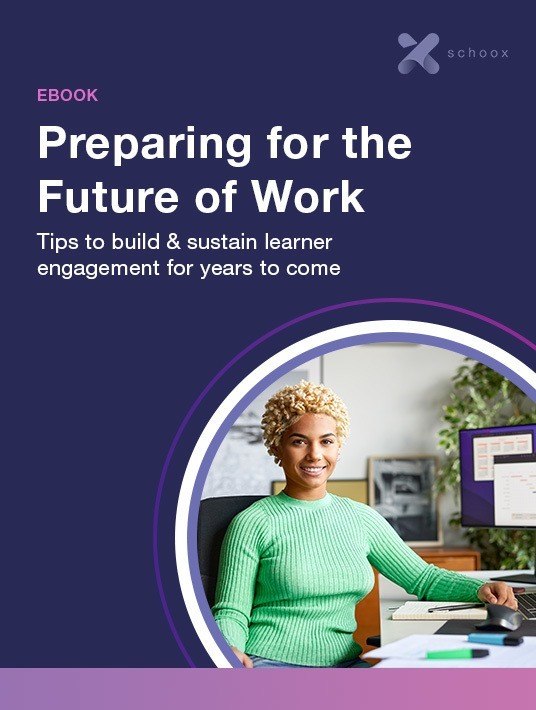 E-book release
Preparing for the future of work: tips for developing and maintaining learner engagement for years to come
Learn how to create engaging learning experiences to build and maintain learner engagement and be better prepared for the future of work.
What's in it for me?
Learners accessing any content presents an uphill battle for engagement. If they don't know why they're doing this training, why it's important, and what it means to them, their engagement level doesn't start at zero: they're in negative numbers. This means that all your fonts, graphics, and interactions are fighting to get learners to hate the experience instead of fostering growth, development, and performance.
It all starts with the big picture. Learning should be aligned with business goals. This is what allows you to build any context and relevance. This alignment defines what learning means for the business and what it means for employees. Being able to tell a story that shows a direct correlation between the learning program's objectives and the company's goals puts learning in a much better position in learners' minds, rather than saying "we need of you to finish this."
Strong alignment between learning and business allows programs to be created with learners' roles, goals, and interests in mind. It also helps L&D teams speak the same language as the business, keeping everyone on the same page and pointing in the same direction. This creates clear expectations for learners about what they should know and be able to do through the learning program, how it helps them, and how it helps the business.
Ultimately, L&D teams must be able to answer the age-old question: "What's in it for me?" Learners always ask this question, overtly or unconsciously, and they need and deserve an answer. Without this response, even the best content developed by world-class instructional designers could be considered intrusive, irrelevant, or even a waste of time.
Make it personal
To learn how to have a chance at winning people's hearts and minds, L&D teams need to get personal. Just think about any interaction you might have in your own life, such as a retail experience, an interaction with technology, or even a visit to the doctor. In any case, a more personal interaction is considered much better than an impersonal interaction. I want my navigation app to take me to nearby restaurants, not hundreds of miles away. I want my doctor to know my medical history. I love getting music and TV recommendations based on what I like. There are few occasions where the word "impersonal" is used as a positive description. Learning is no different. Personalized learning is an extension of the "what's in it for me" conversation and can provide an environment where there is engagement from the start. Personalized learning can be expressed in the form of:
Custom content: Provide learning experiences based on an employee's professional and personal needs and interests
Accessibility: Make learning accessible in the form and time frame that best suits the employee
Terms: Create learning experiences in various modalities so that the experience can meet both the needs of the learners and the needs of the content itself.
Learning Styles: Offer at least some self-paced learning, giving learners autonomy and a sense of ownership over their learning.
Language: Offering learning in languages ​​that match your learning audiences is an essential part of personalization.
Ideally, the L&D team will use tools that capture relevant learner information that can then be transformed into personalization and recommendations. The more automated this process is, the less friction there is for learners.
In addition to this data and information, it is crucial to collect learner feedback before, during and after the deployment of learning programs. This is a vital source of knowledge about what works and what doesn't work from the learners' perspective. However, just collecting feedback is not enough. We must act to demonstrate to learners that their contribution matters. Otherwise, this would be considered lip service and would go against the commitment.
It's not just what they learn, but how
While we can't necessarily get inside the mind of every learner to determine what will work best, it's important to consider broadly how people's minds work and how they learn. You don't have to be a neuroscientist to adopt some of these principles. Cognitive learning strategies encourage learners to think about the material and how to apply it to current and future situations to improve their problem-solving and critical thinking skills. This can transform learning from generic transactional experiences and transform them into relevant and actionable activities. Learners need to discover how to learn and solve problems flexibly.
This means opportunities to reflect on what they have learned and put it into practice using new skills and knowledge. Learners' brains need to focus on experiences with dynamic spatial and temporal structures. Not everything can be learned in a course with a quiz. These processes are essential for working memory success. They make learning real for learners, allowing them to apply what they learn with confidence. Studies like the one published by Neuron and the one published by the Malaysian Journal of Learning and Instruction have shown that learners who benefit from neurocognitive learning perform much better in terms of attention, working memory and even mood.
Finally, when it comes to driving learning engagement before learning experiences, many organizations already have the ideal partner: the marketing team. If the company has a marketing department (or even a single marketing professional), it is possible to leverage their expertise to generate engagement. Their goal is to get people interested in products and services. Simple examples might include:
Company Emails to Increase Awareness and Enthusiasm
Launch evenings for important learning initiatives
A gift offered at the end of the course
Brand badges linked to company colors, mascot, teams, etc.
Generating initial enthusiasm and a continued drumbeat around learning can only increase engagement and its success. So work with them to determine the best learning marketing strategies to your audience before, during and after critical initiatives.
Conclusion
Download today Preparing for the Future of Work: Tips for Building and Maintaining Learner Engagement for Years to Come to get your employees hooked on professional development and prove the ROI of your training.
[ad_2]

Source link